THE LAST CROWN OF HELMESFIELD
Rumours have been looming around the Royal Kingdom of Helmesfield that the Last Crown can be only worn by royal blood. Numerous attempts were made, and it did not end well. Royal Ornaments of Red, Blue , Gold and the Centerpience Pearl have lured and seduced so many, but they were unable to control it's powers. Just like the legends of the Excalibur, perhaps you might be able to weild it's power and rule the Kingdom.
T h e   m a k i n g s   o f   t h e La s t C r o w n   o f H e l m e s f i e l d   c o l l a r

Quality Stitching
The workmanship of the Crown took our artisanal team a total of 80 hours, consisting of more than 200 double threaded stitches.

Swarovski Crystals
More than 50 genuine Swarovski crystals handswen individually with matching high quality rose-gold baby pearls from Japan and intricate embellishments handpicked by PawGlam!'s Founder from various parts of the world.

Genuine Collar
Genuine Calf leather collar lined with high grade velvet finishing.
---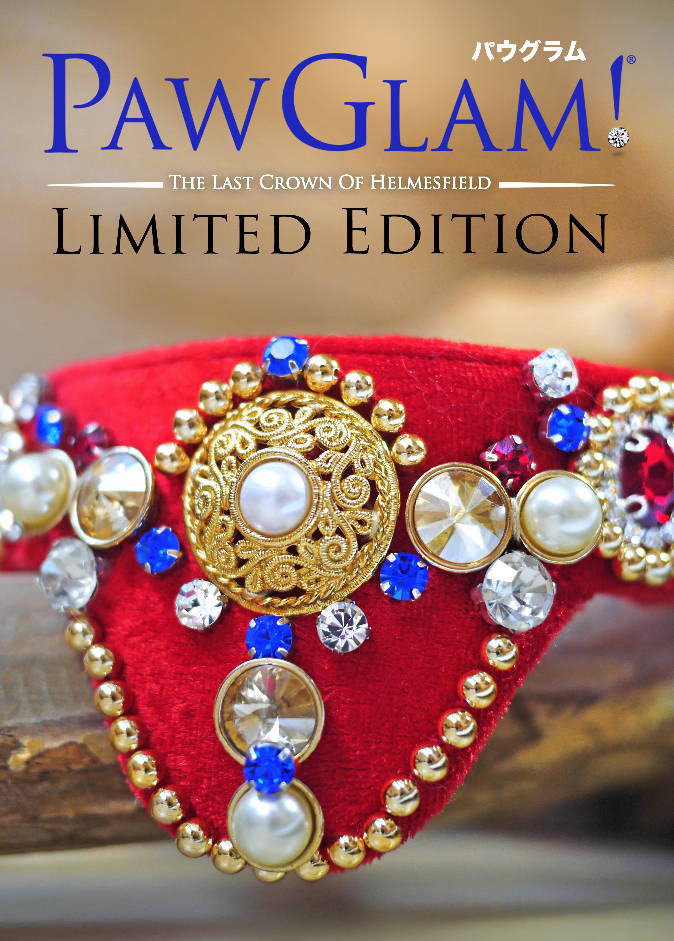 Product Specifications
Price: S$340 S size / S$460 M size
Size: Hand crafted in 1 piece in S and M each
Collar Material: Genuine Calf Leather Collar
Collar lined with high grade velvet finishing
Embellishments: More than 50 kinds of white and blue high shine Swarovski crystals with red centerpiece premium quality jewels and gold pearls from Japan
Duration of stitching: 80 hours