Knight of Wardhurst - Only a Paw-Knight worthy of protecting its King and Queen will be able to don this collar of such grandeur. Laced with Swarovski Crystals; Gold Studs, Red Jewels and Gold Chain which shimmers and obliterates all foes that obstructs the Paw-Knight's Path To Victory.
---
T h e   m a k i n g s   o f   K N I G H T   o f   W A R D H U R S T   c o l l a r

Duration of Stitching
The workmanship of the Knight of Wardhurst took our artisanal team a total of 86 hours, consisting of more than 200 double threaded stitches.

Swarovski Crystals
More than 50 genuine Swarovski Crystals handsewn individually with matching high quality red jewels, embellishments, gold stufs and rhodium anti rust fashion chains handpicked individually by PawGlam! 's Founder from various parts of the world.

Genuine Collar
Genuine Calf leather collar lined with high grade velvet finishing.
---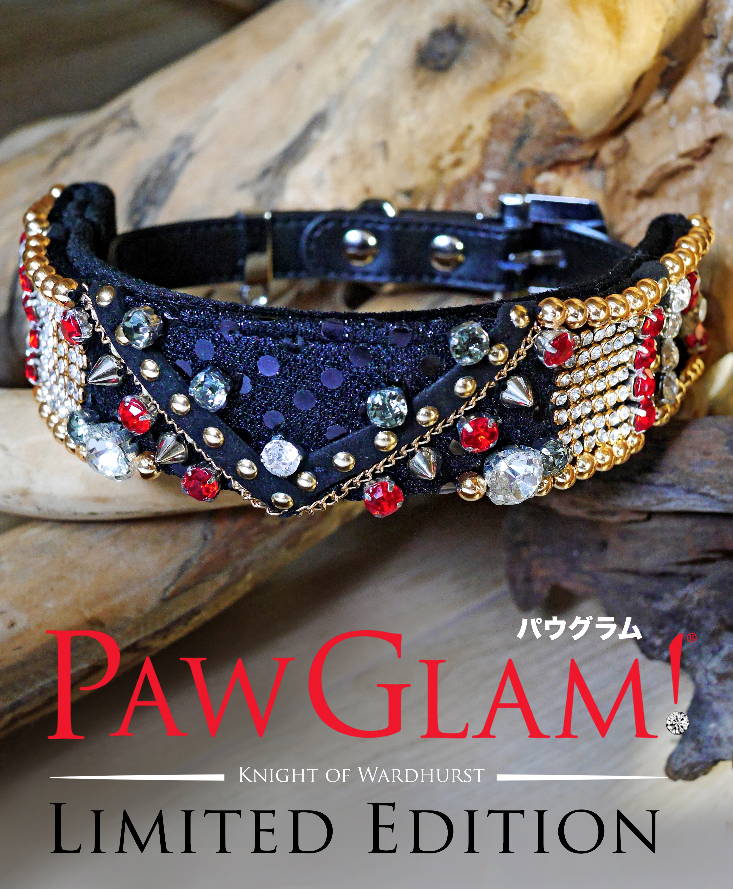 Product Specifications
Price: S$340 S size / S$460 M size
Size: Hand crafted in 1 piece in S and M each
Collar Material: Genuine Calf Leather Collar
Collar lined with high grade velvet finishing
Embellishments: More than 50 kinds of White high shine genuine Swarovski crystals, red jewels, embellishments, gold studs and rhodium chains doubled stitched
Duration of stitching: 86 hours
Available ONLY at Sunny Chong Dog Training School
110 Turf Club Rd, Singapore 288000
Contact Sunny at 9875 7503 or Bill at 9178 8142
for viewing or purchase of this collar.
GALLERY