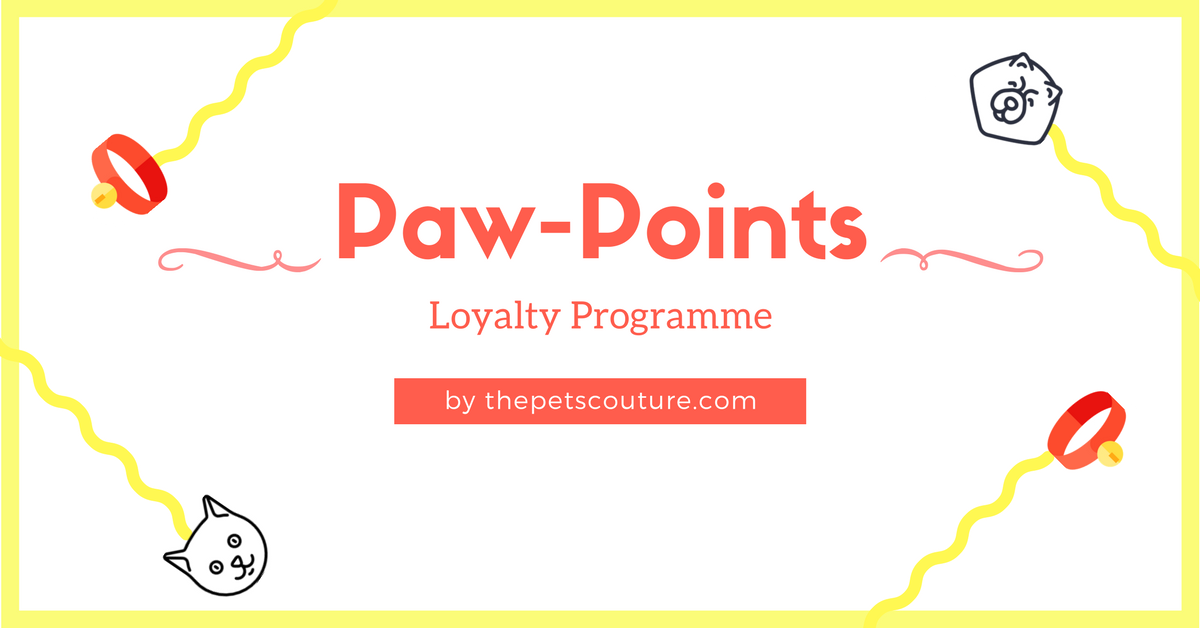 We would usually say our fur-kids deserve our fullest attention, love and care. We agree, but we also do think paw-rents deserve their share for being amazing. Which is why we have introduced the Paw-Points loyalty programme. Just by signing up as a member on our site, you are instantly eligible to earn Paw-points when you check out on our web boutique store.
How do I earn Paw Points?
For every $1SGD, you earn yourself 5 Paw-points! Accumulate your points and redeem cash vouchers when you purchase in the future.
Breakdown of paw-points redemption
Breakdown of Cash Vouchers Redemption
Q: Are there any other way of accumulating Paw-Points?
A: We've got you covered! Here's a table of how you can actually accumulate points!
Activty
Paw-Points Redeemed
Creating a Paw-Point Account
Following us on Instagram @thepetscouturesg
Sharing your purchases on Facebook
Past purchases from retail stores
Q: I have been a loyal customer of Pawglam and Pelure, but my purchases were from The Pet Lovers Center. How can I redeem Paw-points from this?
A: Not to worry, simply send us an email of your purchase receipts with your registered Paw-Point Loyalty Programme and our friendly TPC staff will handle if for you. For purchases from The Pet Lovers, you are still eligible for a conversion rate of 1SGD to 5 Paw-Points. Think of it as our way of saying thank you for all the support all these years.
can I transfer points to my friends?
Q: Can I transfer my points to my friends?
A: Unfortunately we do not provide points transfer so as to ensure fairness and integrity for all our paw-rents out there.
Q: Is there an expiry date on our Paw-Points?
A: There is no expiry date for your Paw-Points. How paw-some is that? (:
Usage of online discount coupons
Q: Is this point system tiered? Do I have to accumulate and purchase the first tier before I can proceed to the next one?
A: Our rewards program is tiered and tailored as how you see fit. You can (for example) accumulate 2,500 points for the first time and use it to purchase the SGD 25 coupon without hassle. Our team wants Paw-rents to have the full freedom to choose what's best for them.
Q: If I redeem and use the vouchers during checkout, is there a minimum purchase requirement?
A: Yes! So as long as the total checkout value is not a negative amount (i.e –SGD 5), you're good to go!